Now you can park quickly and easily in the special car parking facilities of the airport.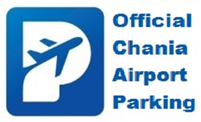 A comfortable place with plenty of parking space which gives you direct access and saves you time before your trip or in case of travelers' pick-up. Τhe facilities are located inside the airport of Chania specially designed to offer the quickest, safest  and value for money parking within the airport's area. The parking operates 24 hours per day, 7 days a week, 365 days per year and offers the option to pay by cash or credit card at highly competitive prices.  The first 20' are free of charge.

If you are travelling via Chania airport there is no better and quicker way to park your car.
Contact Details
Tel. +30 6979 720 983
Pricelist
For each additional day or part thereof

3.00 €